14th Regional Conference of the Community of Innovative Teachers
Teachers as Peace Builders
The Role of Teachers In Building a Culture of Peace
How important is peace to us?
"This conference aims to gather all education lovers, those teachers who stand on the other side of violence"
For long enough, school has not been a place where children or adults come with joy, anticipation, curiosity or naive idea of benevolent socialization, adventures of learning and exploring. It is often a source of anxiety, a platform for perpetuating patriarchal, militant and violent values. A place where the child is no longer in the center of meaning and existence, but the subject of bureaucratic, technocratic and stereotyped approaches. Teachers, as the most valuable individuals of all educational systems, also represent the strongest link in creating a culture of peace.
This conference aims to gather all education lovers, those teachers who stand on the other side of violence and who, with their approach, content and broad understanding of their role that goes beyond the norm, duration and conservative idea of the teacher archetype, raise generations of good children with strong empathy and feeling for others, an internalized culture of peace and capable partners in building a better, fairer and more peaceful world.
We are rallying around our mission as never before, driven by the terrifying global, regional, and disturbing examples of violence in schools that have awakened immense and justified discontent over years of child neglect and turning a blind eye to all those children who have never been seen, addressed, cared for or hugged.
For years we've been offering a place where people gather to create new ideas in order to build good education and protect the joy of childhood for every child.
Above all, such a conference must result in a strong fellowship among disunited and lonely practitioners, serious and constructive discussions to unlock the potential between all of us. Once again we shall ask the educational authorities with strong arguments on our side to try to help them build education as we all agreed to, with a substantial focus on the child and key values such as love and respect. This conference goes beyond the territory of Bosnia and Herzegovina; wishing to be a home for everyone from the region and the world, since the place that had experienced terrible violence must become a place that vigorously offers ideas for peace and constantly warn that among others, the school itself may become a tool for inspiring and legitimizing violence.
Let this movement in the form of a conference be our contribution to the powerless education. Only teachers can restore it to real peacetime power! In the end, this is not a place where those who promote violence as a response to violence congregate, nor do we want a school surrounded by guns and toxic masculinity because that would mean we have acknowledged that a meaningful education we agreed on, colored by love and respect cannot reshape this world. And that we will never and cannot ever admit.
This conference should be full of practices at all levels of upbringing and education that promote a culture of peace and non-violence proving that such teachers exist, as well as schools that are trained for peace actions, but without wider institutional support. Such teachers and schools are alone in their efforts. This is a space for researchers, university teachers who want to share their thoughts about the school and focus their energies on reducing the gap between theory and practice. This is a place where all those who think about peace can contribute to a better and more meaningful school.
Peace pedagogy represents an active peace-making approach in designing and implementing content, activities, approaches and values aimed at developing a culture of peace through any aspect of the educational system and the teaching process itself.
2. Mental health of children and teachers
When humanity records failures on the issues of building love and respect, the idea of peace and harmony, socio-emotional intelligence and the strength of society to resist and build meaningful resilience, accompanied by strong and toxic competitiveness and individualism, the role of the school in preserving the mental health of teachers and children becomes extremely important.
3. Contents and values for peace
Educational systems in their value and content sense must abound with ideas of peace, love and respect in order to reflect our peaceful beliefs on a symbolic and every other level, which ultimately shape our behaviors.
4. Violence in society - violence in school
School is nothing but a reflection of social beliefs (Michael Apple). How in violent cultures, burdened with militant and violent narratives and behaviors, to build a school where there is peer and generational support, meaningful laws, policies and procedures aimed at the real well-being of the child, actions at the level of the class, school and wider community that help the child grow up in non-violent environment and offers competences to build such a world for themselves and others in the future?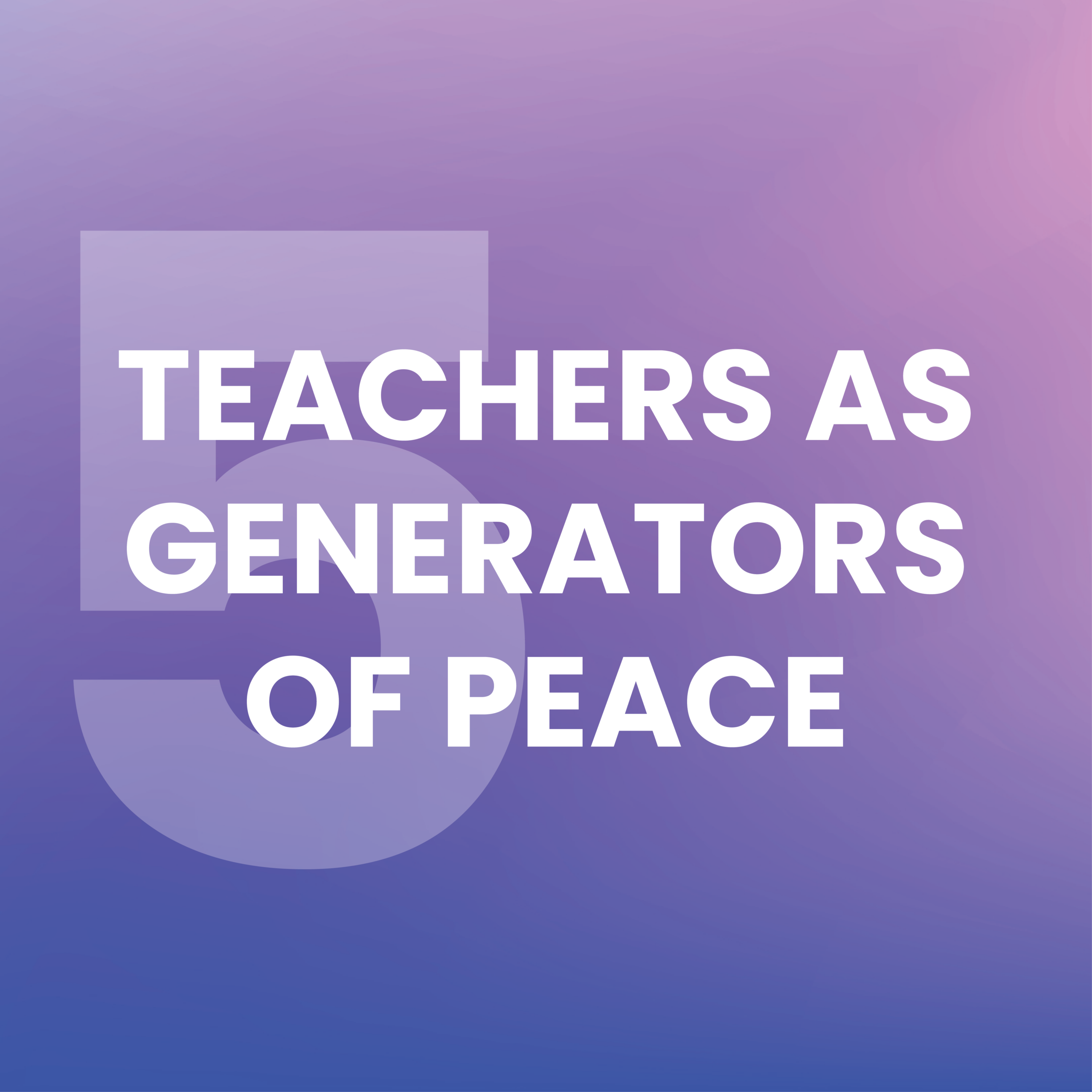 5. Teachers as generators of peace
Teachers are the key link of quality education; in the totality of all factors, they represent the most dominant link. How to ensure that teachers are creators and generators of peace and non-violence, and not in the service of perpetuating a violent culture? How to ensure that they are a counterpoint to patriarchal, militant and all other negative phenomena? What should practices and policies look like in order to strongly strengthen the peaceful characteristic of teachers?
This conference is yours as it is ours, and only with your contribution it really becomes the place we talked about. It is open to all educators, classroom teachers, subject teachers in elementary and subject teachers in secondary schools, professional associates, university teachers, college students from pedagogic faculties and all education lovers that share our values. Therefore, be free and bold to submit your ideas that you can materialize in any of the following forms:
Classroom ideas based on any of the Conference topics
(30` and 15` for presentation and 15` for conversation)
Promotions of books, manuals and collections of papers
Short forms for structured dialogue
(15` introductory presentation and 45` for discussion and conversation)
(civil society organizations, universities, donors, etc. in the form of a fair or presentation)
Simply click on this LINK to register. Please fill in all requested information.
Every year we have a large number of applications and we make sure that everyone who truly deserves it participate in our conference. The center tries really hard to provide reasonable conditions for participation, and we offer the following options:
• Participant
• Speaker (Reduced amount of the registration fee)
• Nominated teacher for the Award for Innovative Teachers 2022 (Stipend in the amount of 50% of the total costs of the conference including the registration fee – single rooms are not available for this conference arrangement)
• International participant
All participants will be accommodated in Hotel Holiday in Sarajevo. This does not prevent participants from finding accommodation in their own arrangement.
This is the least favourite part for us. We would love to be able to organize the conference completely free of charge, but we are unable to do so. That's why your registration fees will help us cover the necessary expenses, but also enable an unforgettable conference. There is an old good habit at the Center, which is that if you are unable to cover the registration fee, you can always contact our dear Adna at adna@coi-stepbystep.ba, with whom you can agree on payment methods and check the possibility of writing off the registration fee.
The registration fee is something that allows us to cover the important costs of our Conference, and it is mandatory for all participants, regardless of whether they are speakers or not, and whether the participant is a scholarship holder of the Center.
REMARK: Early bird price no longer available.
If you are interested in participating in our conference, we offer various arrangements for accommodation and food for participants which are described below.
The listed room prices include accommodation on the basis of two full boards. Total accommodation prices per person are shown for the entire conference – meals are buffet-style. Lunch on the last day of the conference is not included in the price and can be optionally paid for.
THE PRICES OF ACCOMMODATION IN THE HOLIDAY HOTEL LISTED BELOW ARE ONLY VALID FOR RESERVATIONS THROUGH THE CENTER FOR EDUCATIONAL INITIATIVES (NOT VALID FOR DIRECT RESERVATIONS THROUGH THE HOTEL).
ALSO, ACCOMMODATION CAN BE ORGANIZED IN YOUR OWN ARRANGEMENT WITH NOTE THAT THE FEES DO NOT COVER MEALS DURING THE CONFERENCE.
Lunch on the last day of the conference (optional) – it is necessary to notify in advance by email adna@coi-stepbystep.ba) – 32.00 KM. The price of one meal for those who are not staying at the Holiday hotel (optional) (must be notified in advance by email adna@coi-stepbystep.ba) – 32.00 KM
Purchase lunch vouchers HERE.
Card payments are possible through the web shop www.shop.inskola.com or by bank transfer according to the pro forma invoice.
If the costs of participating in the conference are borne by the institution/employer/donor, please contact us at adna@coi-stepbystep.ba in order to receive a proforma invoice addressed to the appropriate legal entity.
The deadline for registration to participate in the Conference is September 25th 2023. while the deadline for speakers' registration is September 20th 2023.
Presentation registration
Deadline for presentation registrations is 20.09.2023. 
Participation registration
Deadline for participation registrations is  25.09.2023.